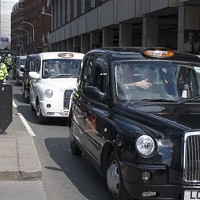 Driverless electric taxis could bring huge environmental benefits, a new study from the US's Lawrence Berkeley National Laboratory claims.
The research team says that by 2030, a self-driving taxi could be generating 90% less emissions than a cabbie in a car with a petrol engine - and even 82% less than a hybrid model.
Half the cuts, say the scientists, could be achieved by using vehicles that are sized according to the number of passengers they are carrying.
And with taxis clocking up many more miles than most privately-owned cars, so-called 'robocabs' could also prove to be more cost effective than petrol-driven taxis.
The study says for vehicles covering up to 12,000 miles a year, self-driving electric versions are still likely to be more expensive.
But among those clocking up between 40,000 and 70,000 miles per year, cars deriving their power from an electric battery or hydrogen fuel cell are likely to be cheaper to run.
As well as being more energy efficient, self-driving taxis would not have any driver costs associated with them, the study says.
The scientists say such vehicles would use less energy, as braking and accelerating would be smoother and the most efficient routes would always be followed.
The study, led by Dr Jeff Greenblatt, is published in the Nature Climate Change journal.
Copyright Press Association 2015