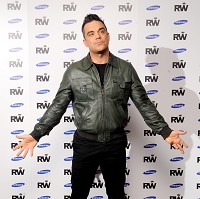 People would most like to be Robbie Williams' angel and come to the rescue of the singer if he were to get stuck in an emergency situation this winter.
David Beckham came in second place and Robbie's Take That colleague Gary Barlow came third in the poll, which was carried out by Duck Tape.
Meanwhile, at the bottom end of the survey were Adrian Chiles, Eamonn Holmes and Piers Morgan.
Stars including maths brain Carol Vorderman, househunter Kirstie Allsopp and Apprentice star Lord Alan Sugar came out better in the poll.
The survey's results have been made public ahead of the snowy weather that is hitting the country and causing transport chaos.
Some 61 emergency situations are set to be caused by bad weather during the winter, it has been revealed, and people are expected to miss one day of work as they stay indoors, having to repair their home or vehicle.
The survey, in which 3,000 British people were asked, showed that many will struggle with their cars over the next few months.
Problems will include being unable to open car doors, finding it hard to defrost windscreens and repairing bumped wing mirrors.
One in five people have had to make an insurance claim in previous winters to cope with vehicle or property woes.
Typically, a person will breakdown at least once this winter, will have a couple of near-misses with other vehicles, and bump their car into another car, into a wall or a post once.
Copyright Press Association 2013