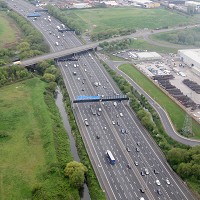 Last minute work has been carried out on London's road network less than a day before the Olympic Games opening ceremony.
Work went ahead overnight in an attempt to minimise disruption on the M4 and M25 - both key roads carrying spectators and athletes to the London 2012 Games.
Three faulty signals needed to be replaced as part of the work in addition to other routine maintenance.
Those intending to drive in the capital during the Games have been urged to plan their journeys in advance. Drivers should also be advised not to be totally reliant upon sat-nav orJourney Planner services during the Games because Olympic lanes may interfere slightly with normal routes.
A spokesman said: "The work will maintain safe journeys along the M4/M25 and ensure that the Highways Agency can provide up to date information to road users during the Olympics and beyond.
"This work is not connected to the recent repair work on the Boston Manor Viaduct which is near junction two and is also not connected to the operation of the M4 Games Lane which operates for 3.5 miles eastbound between junctions three and two."
Copyright Press Association 2012