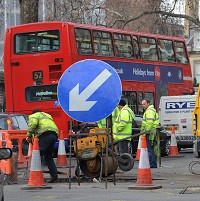 Improved roadworks co-ordination is to be pursued by the Government after peers including The Apprentice's Lord Sugar called for action.
Labour peer Lord Sugar led the call at Lords question time, urging "common sense co-ordination" by utility firms - gas, electricity, water and telecoms.
He complained of long traffic delays, saying he regularly sees roads being dug up, sealed off and dug up once more by a different company.
The firms should do their necessary work at a single digging instead of repeating it, the peer said.
Ex-Tory chancellor Lord Lamont of Lerwick supported the call, mentioning the "appalling level of roadworks in London" damaging tourism, adding that it was making it hard for tourists to get around the capital as well as raising pollution and being very unsightly.
Lord Popat, speaking for the Government, agreed about the "nuisance" and said he would take the issue to the Department for Transport to see about minimising traffic congestion on roads concerned.
Copyright Press Association 2013