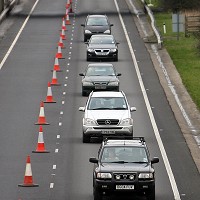 Roadworks may cause frustration but motorists are being urged to avoid putting lives at risk by resisting the temptation to speed through them.
The Government says drivers will see more roadworks over the next couple of years as it invests in road improvements. The Highways Agency says that will mean more road workers, traffic officers and other operatives working on motorways and trunk roads, often just a few feet from moving vehicles.
It wants motorists to stick to speed limits, comply with signs and get into the correct lane early while concentrating on the road ahead. Drivers should look out for works vehicles leaving or entering roadworks as well as workers on or near the carriageway.
Switching lanes should be avoided and motorists are reminded to keep a safe distance between themselves and the vehicle in front. Where their location is known roadworks could be avoided by using ajourney planner to take an alternative route.
Roads Minister Stephen Hammond said: "It is absolutely essential that all road users play their part when driving through roadworks, and keep within the signed speed limit. Those few seconds you might save by travelling too fast could cost lives."
Copyright Press Association 2013