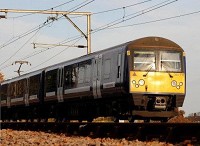 The Government is risking not meeting Treasury targets by rejecting value-for-money evidence and promoting rail over road schemes, a report claims.
According to the RAC Foundation, 92% of all passenger travel in Britain is by road but in 2006/07 £5 billion was invested in rail, compared with £4.8 billion on roads.
It claims that £15 billion of public money has been earmarked for rail over the next five years and just £6 billion has been set aside to improve England's road network.
In the report the foundation says the Government is asked by the Treasury to prioritise transport spending to get the highest rates of return on money spent, but it asks "why this clear procedure is being ignored by ministers".
Figures from the 2006 Government-commissioned Eddington Transport Study show the average benefit cost ratios (BCR) for transport schemes was 4.66 for Highways Agency roads and just 2.83 for heavy rail schemes.
RAC Foundation director Professor Stephen Glaister said: "The foundation is not against rail travel, yet the figures are clear. Most people use the roads to get about and road schemes tend to offer the best value for money. The road network is the 1 provider of public transport."
Copyright © Press Association 2009