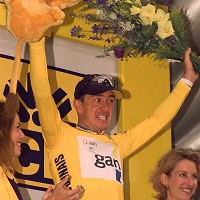 The Government has been urged to put more of the transport budget into cycling to help create a positive legacy from the Tour de France's appearance in Yorkshire this weekend.
Olympic gold medal winner Chris Boardman is leading demands for £10 per person per year from existing transport funds to be made available to local authorities to help make towns and cities more cycle-friendly.
The first stage of the Tour will set off from Leeds on Saturday, and British Cycling - which helps govern the sport - has worked with the city council on a vision of how to transform The Headrow, the road where the world's top riders will gather before the Grand Depart.
Under the £4 million plans, car drivers would be banned from the road, while there would be a 20mph speed limit for other vehicles and footpaths would be widened.
Cycling chiefs hope other councils will follow the vision proposed for Leeds to help boost walking and cycling levels across the country, potentially cutting motor traffic by 40%.
Boardman, who is a policy adviser for British Cycling, said the Government needs "to face up to some hard truths and commit adequate investment" to cycling.
He said there should be a "long term plan to remodel our urban landscapes" which could lead to cycling levels going up by a third.
It is estimated that about three million people will watch the world's top cyclists during the two stages of the Tour which are taking place in Yorkshire.
Copyright Press Association 2014