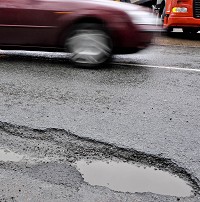 Lack of adequate funds to patch up potholes mean drivers face "catastrophic" conditions on the roads, the Local Government Association has warned.
Miles of road are now dangerous due to decades of inadequate funding from central government and very bad weather, said the association's transport board chairman Peter Box.
Mr Box said more extensive flooding or severe winters could mean "catastrophic consequences" for roads around Britain without the right funding for upgrading.
Councils must have more and consistent funding to invest in resurfacing for long-term improvement, said Mr Box. He said disrepair affected huge swathes of roads and many local authorities struggled to do more than patch up "a deteriorating network".
Councils have repaired millions of potholes over the last two years.
Copyright Press Association 2013