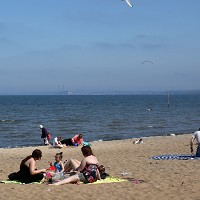 The start of the school summer holidays has been blessed with sunny weather as thousands of families take to the roads.
Friday is expected to be among the busiest days for road travel in 2014, Trafficmaster and Inrix agree.
There could also be significant jams on Saturday as more people head off on holiday, followed by busy days on all of the Saturdays next month.
With congestion also predicted around major airports and ports where people can catch ferries to Europe, it would be advisable to use a journey planner before setting off to be aware of the potential hotspots.
Other areas thought likely to attract traffic jams are those to the South West and beaches on the coast. It's expected to stay sunny in Britain, although there could be isolated showers.
RAC spokesman Simon Williams said: "This weekend will be challenging on the roads as we have a perfect congestion-creating combination of glorious weather and 10 million children finishing school for the summer. Main routes to the coast, particularly the M5 heading to the South West, will be fraught with holiday hold-ups.
"This combination can cause problems not just for the vehicle itself, but also for the driver and passengers inside the car, especially as a good proportion of them are likely to be children and potentially stressed out parents. Central to getting to your destination in as good a shape as possible is preparation before you leave.
"Basic things such as checking your oil and coolant levels, windscreen washer fluid levels, tyres and pressures, and not overloading your vehicle can mean that the summer break up doesn't turn into a breakdown. It's also important to have plenty of water for everyone in the car as your journey could be far longer than it should be."
People planning to get away by train are being warned of major problems on a key line between London and Scotland for a few weeks. Elsewhere, about two million tourists are thought to be flying away on holiday this weekend.
Copyright Press Association 2014