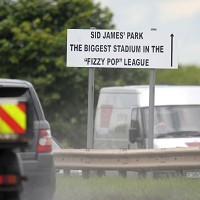 Fans of Sunderland AFC have given their biggest sporting rivals a departing gift from the Premier League.
Newcastle United were relegated despite Toon hero Alan Shearer being appointed manager towards the end of the season and now two road signs have been erected by Sunderland jokers to remind them of the club's decent to the Coca Cola Championship.
One sign, on the A184 leading into the city, has an arrow pointing towards Tyneside and reads: "Sid James' Park, the biggest stadium in the 'Fizzy Pop' league'."
The other, on the road to Sunderland, says: "The Stadium of Light, the North East's only Premier League stadium."
A video of the stunt has also been posted on video sharing website YouTube, in which one of the pranksters can be heard saying: "A little gift for our Newcastle friends. Our boys are doing the business. You little beauty, come on."
The signs were fixed to empty poles already in place and are the latest in series of jokes at Newcastle's expense.
Newcastle fan John Monaghan, 35, of Heaton, said: "They are entitled to laugh, after all we laughed at them when they were relegated in 2003 and then again in 2006."
Copyright © Press Association 2009