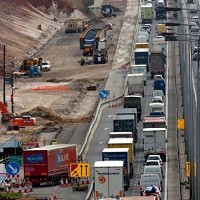 A likely £29 billion budget shortfall leaked to a national newspaper has raised fresh doubts over the future of major UK transport projects.
The Guardian reports that a transport-industry memo warns of "looming spending cuts" that might lead to projects being "delayed, downsized or scrapped altogether".
Those that may be heading for the chop include a £6bn road-building programme, including the extension of motorway hard shoulders, and the £16bn Crossrail scheme linking Heathrow to Canary Wharf and Essex.
Meanwhile, according to the newspaper, the cap on rail fares of inflation plus 1% may be axed, which will lead to substantial fare increases.
This on top of the announcement by National Express that it was handing its £1.4 billion London to Scotland rail franchise back to the Government, thus in effect triggering its renationalisation.
Transport minister Lord Adonis has described the company's refusal to continue funding the loss-making East Coast Main Line beyond the next few months as "regrettable and disappointing".
Copyright © Press Association 2009