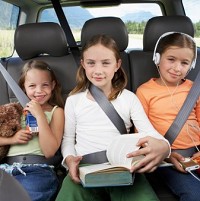 A road safety charity has released a series of tips designed to keep drivers safe when travelling over the Easter break.
Motorists should start by planning their journey, giving themselves sufficient time to reach their destination and avoid rush hour traffic, according to Peter Rodger, chief examiner at the Institute of Advanced Motorists (IAM).
It's also vital that drivers carry out their basic checks before travelling to ensure their lights are working, their washer fluid is topped up and that their tyres have enough tread and are inflated to the correct pressure.
Take as little luggage as possible to avoid excess fuel consumption and strap it in carefully to avoid obstructing your view.
Drivers can save money by filling up before they hit the motorway and should pull over somewhere safe, drink some strong coffee and have a 20 minute nap if they start to feel tired, Mr Rodger said.
Children can be kept entertained with books, cordless games consoles or portable DVD players - preferably ones with headphones!
"Taking some steps to prepare yourself and your vehicle before setting off on your much-deserved Easter break will mean you'll have a far more enjoyable time getting there, and be better able to have a good break when you arrive," Mr Rodger said.
Copyright Press Association 2013