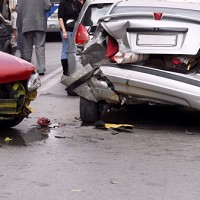 There are sharp disparities in the road safety records of Britain's local authorities, new figures have revealed.
Residents living in the City of London are 21 times more likely to be injured in a car accident than those based in the safest area, Harrow, just 14 miles away, according to Department for Transport
The City's casualty rate was 371.82 per 10,000 residents, compared with 17.99 at Harrow, although the former's figures are twisted by the large number of financial services employees who work there in the day but are not counted as residents,
Nevertheless, Harrow's figures are far better than many other rural and suburban areas, with Surrey and Peterborough both recording almost three times as many accidents.
Harrow, in north-west London, has promoted a number of initiatives designed to protect the lives of residents and help motorists avoid the kinds of prangs that lead to a call to their breakdown cover provider.
"We run regular awareness campaigns, keeping the importance of road safety at the forefront of all our residents' minds." said Philip O'Dell, the councillor responsible for community safety in Harrow.
"Our team also carry out regular analysis of roads and junctions, and work quickly to implement necessary measures such as traffic lights, pedestrian crossings, and any speed restrictions that will help to keep road users safe."
Copyright Press Association 2013