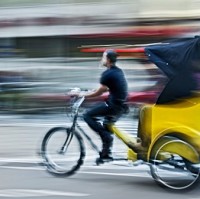 More rigorous licences may be needed for bicycle rickshaws and stretch limousines as part of safety improvements to UK roads and driving standards.
New national safety standards and clearer regulations regarding taxi and mini-cab licences could also be agreed, the Law Commission for England and Wales said.
The commission, which analyses and suggests law reforms, said limousines, motorcycle taxis and bicycle rickshaws - sometimes called pedicabs - may also be regulated by the same safety and driver-teaching obligations as taxis.
The plans may also introduce a "peak time" taxi licence and remove licence exemptions for wedding and funeral cars, with ministers instead having responsible for deciding on their licences.
Local authorities would not be able to place limits on taxi numbers, while private hire firms could be allowed to receive bookings beyond their own local region.
However, the commission also stressed that the plans would stop some being unfairly caught out be licensing laws, such as childminders picking up children and volunteers driving elderly people around in their jobs.
Copyright Press Association 2012