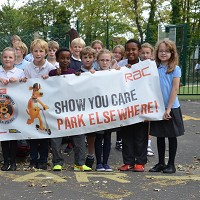 Parents "racing" to drop their children at school are being urged to think more about road safety.
A Commons debate on traffic controls outside schools heard concerns that some parents may be ignoring road rules because they are setting off too late to get their children to class on time.
MPs told Parliament that some parents in a rush to reach the school gates are causing a danger to other road users by parking on double yellow lines or on the pavement.
Transport Minister Robert Goodwill said tackling the issue is "vitally important" in terms of keeping children safe, adding that measures are available to help with the enforcement of parking rules outside schools.
He also noted that the problem had increased due to more parents, especially in rural areas, driving "bigger and bigger" vehicles, which he said may make it harder for them to see when they manoeuvre.
RAC head of external affairs Pete Williams said: "We recognise that many parents need to drive and juggle family and work commitments. But it is the responsibility of everyone to be mindful of the added danger speed and extra traffic around the school gates poses for our children.
"In an ideal world we should all be trying to make a change and walking or cycling to school, but that is not always practical. Many communities have instigated 20mph zones around schools and the RAC's Report on Motoring 2014 found that 91% of drivers, and 95% of those with children, support these lower limits."
In April 2014, the RAC launched a national Child Road Safety Campaign to encourage and promote road safety education in schools and clubs and to promote safer driving around our schools and communities.
The motoring organisation teamed up with Aardman Animations who created Horace, a new road safety mascot for the 21st century, who is visiting schools and clubs across the UK and even targeting parents with a "Show you care. Park elsewhere!" campaign to discourage parking at or near the school gate.
Copyright Press Association 2014