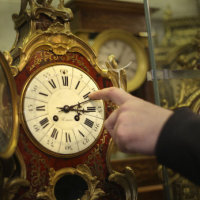 Many drivers' lives could be saved if Britain trialled Single/Double Summer Time (SDST), a leading road safety charity claims.
The Royal Society for the Prevention of Accidents' (RoSPA) call comes ahead of this weekend's clock change.
RoSPA believes a change in the traditional system could save lives.
It says accidents would be reduced by the number of extra daylight evening hours that SDST would bring.
The Government's own statistics suggest that the charity may have a case.
They show that fewer motorists die on the roads after the clocks go forward in spring.
They also find that there are more pedestrian road fatalities after Britain's clock are set back for winter.
The most recent figures, for 2014, show that there are nearly a third more pedestrian accidents in the month before the clocks are put back than the month after.
The tally jumped 32.3% from 1,878 in September to 2,486 in November. Of these, 66 people were killed in November, as opposed to 29 in September. There were 543 serious injuries in November, compared to September's 430.
The RoSPA's chief executive Tom Mullarkey says his charity's proposal has so far failed to attract political support.
He says that accidents were greatly reduced during a GMT+1 trial across 1968-71.
Mr Mullarkey wants a new trial to indicate to the Government just how many lives can be saved and accidents prevented.
Copyright Press Association 2016. Motoring News articles do not reflect the RAC's views unless clearly stated.