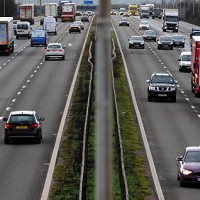 Road repairs tend to be carried out in the wettest months and this could be wasting public money, a Government spending watchdog has warned.
The pattern of funding and the need to make use of funds before the end of a financial year can also make road maintenance less efficient than it could be, the National Audit Office (NAO) says.
Its investigations reveal that the majority of maintenance work is carried out between September and March, with the cold and wet conditions having an adverse effect on materials and workers having to contend with fewer daylight hours.
The NAO acknowledged that doing the work at that time of year involves less disruption to road users.
But it also pointed out that as almost every highways authority receives funding for emergency repairs at the same time, they are less likely to secure a good deal from the market.
The NAO report, which covers roads in England, also claims the unpredictable nature of road funding over the longer term is a problem.
In the past local highway authorities devoted more funds to maintenance, the NAO said, but are now spending less on essential routine tasks such as clearing gullies that prevent the ingress of water into the sub-structure of roads.
And the watchdog said road maintenance contractors have indicated a reluctance to invest in improving efficiency due to unpredictable income.
Recent data suggests there has been an improvement in the surface condition of the strategic road network in the 10 years since 2003, but the report added it may be that deterioration has not yet become visible.
Between 2011/12 and 2012/13 there was a 2% fall in road users' satisfaction with the general upkeep of the network - down to 91%.
The NAO's report comes after the Government unveiled legislation in the Queen's Speech to convert the Highways Agency into a state-owned company.
Copyright Press Association 2014