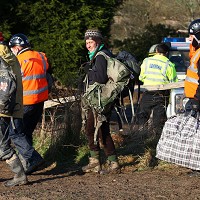 Removing protesters from a controversial link road site in East Sussex will cost the taxpayer an additional £690,000, it has been revealed.
East Sussex County Council was forced to recruit highly trained specialist staff to evict protesters camped along the Hastings to Bexhill route.
Activists have been stationed in trees, camps, and tunnels along the route since December in protest over the £93 million road plans.
The protest, dubbed 'the second Battle of Hastings', comes amid fears the route will damage the environment.
So far action by the local authority has led to 28 activists being arrested.
Securing the site and removing the protesters has added an "unnecessary" £690,000 to the building project bill, the local authority said.
The scheme has already run up bills of £4.5 million as a result of previous judicial delays.
A spokesman for the county council said the additional cost was a "significant sum".
He said it required "very specific skills and expertise" to safely remove the activists from trees and tunnels.
Copyright Press Association 2013