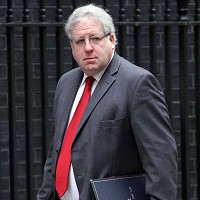 Transport Secretary Patrick McLoughlin has defended the Government's road-building programme amid claims it has stalled before even getting started.
Mr McLoughlin said work is either under way or about to begin on eight projects outlined in the Chancellor's Autumn Statement in 2011.
On the BBC's Sunday Politics programme he was asked to explained why the eight "shovel ready" projects were not being built.
The Transport Secretary denied abreakdown in the plans and confirmed the Government's commitment to the plans and added that further work is under way on "pinch point" work to alleviate pressure on the existing road network.
"I announced the £170 million pinch point schemes and they will be done within the next 12 months," he said.
"We have not lost the shovel. We are very keen. There are problems sometimes when you need planning approvals, they can take longer than one would like."
Mr McLoughlin explained that further projects set out by the Chancellor in his recent Autumn Statement are expected to begin next year.
He said: "We looked specifically for schemes that are under way and are ready to go.
"One of the things I will be doing shortly in the new year is launching the local authority pinch points where they will be able to bid for schemes that are ready to go."
Copyright Press Association 2012