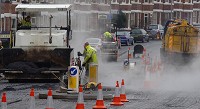 The National Audit Office (NAO) has said that the cost of maintaining motorways and trunk roads in England has risen far above inflation in the past few years.
It estimates that the expenditure on routine maintenance has risen 11% above inflation since 2002-03, while costs for planned maintenance have increased by 5.5% above inflation.
Some of the costs, including that for road resurfacing could not be determined because of lack of management information from the Highways Agency, the spending watchdog said.
The report highlighted "shortcomings" in the agency's management of some maintenance contracts, saying the quality control systems were focused more on determining compliance with contract requirements than on quality or costs.
Shortage of skilled staff to manage some contracts and the lack of adequate information on assets necessary to minimise maintenance costs were some of the problems the agency was facing, the NAO added.
Edward Leigh, chairman of the House of Commons Public Accounts Committee, commented: "It is extraordinary that it (the agency) doesn't know whether it's getting value for money for the extra cash being spent."
However, the report said that the managing agency contractor (MAC) contract which was introduced in 2001 had led to improvements in quality and delivery to budget.
Copyright © Press Association 2009