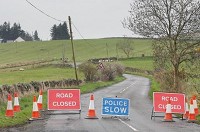 New statistics released by the Government show that the number of people killed on Britain`s roads reached a record low last year.
Road deaths totalled 2,538 in 2008, which was 14% down on the previous year and the lowest figure since 1926 when records began.
The Department for Transport statistics were based on casualties in accidents reported to the police, and showed that 28,567 people were killed or seriously injured last year.
Meanwhile, the total number of casualties in 2008 was 231,000, a 7% fall on the figure for 2007. These included slight injuries, as well as deaths and serious injuries.
The Government has reached its target of reducing by 40% by 2010 the number of people killed or seriously injured on the roads, compared with the mid-1990s average. However, child deaths on the roads have risen slightly, from an all-time low of 121 in 2007 to 124 last year.
Professor Stephen Glaister, director of the RAC Foundation, commented: "The big challenge is to maintain the overall downward trend in deaths and injuries on the roads against a backdrop of an expected rise in traffic in the coming years."
Copyright © Press Association 2009