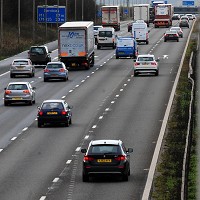 The number of deaths on UK roads last year was the lowest since records began in 1926.
There were 1,713 road deaths in 2013, according to official Government data - marking a 2% drop on 2012.
Serious injuries and slight injuries were both down 6% on last year, at 21,657 and 160,300 respectively.
Car occupants accounted for almost half (46%) of fatalities, with pedestrians making up 23% of the total, bikers 19% and cyclists 6%.
The number of motorway deaths increased 14% last year to 100, marking the first rise since 2005 but still 42% lower than the 2005 to 2009 average.
The Department for Transport figures do show, though, that traffic levels on motorways increased 1.5% between 2012 and last year, while remaining relatively unchanged on all other roads.
RAC Foundation director Professor Stephen Glaister says the figures are "very encouraging".
"Even though traffic has grown slightly year on year, casualties have fallen just about across the board and half as many people died on the roads in 2013 as in 2000," he adds.
"But there is more we can do to protect vulnerable road users and cut the disproportionate number of killed and injured in accidents involving young drivers.
"Part of the overall reduction is likely to be down to the steady drop in the number of drivers observed speeding. However, a meaningful level of enforcement is needed and we would urge constabularies not to reduce funding for traffic policing."
Copyright Press Association 2014