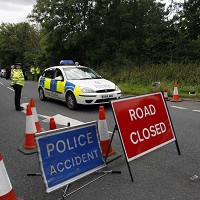 Road deaths and serious injuries dropped in the spring of this year, according to provisional figures.
The total of people killed or seriously injured fell by 6% to 5,970 in the spring, while slight injuries fell 7% to 41,910 over the same period.
The total casualty figure - taking in everything from deaths down to serious injuries - was down 7%, to 47,880.
There was further welcome news when it came to child deaths and serious injuries, as they showed the biggest drop in more than 20 years, at 14%, over the April to June period.
But despite the good news, motorists have been warned that the lower number of incidents may be due to unexpectedly wet weather over the period in question.
The Department for Transport said: "In general, single-quarter comparisons should be treated with caution as the data are more variable, and more subject to distortion by short-term factors such as unexpected weather.
"In this context, it should be noted that Q2 2012 (April to June) saw extremely wet weather across England (where rainfall levels were more than double the 1981/2010 average in both April and June)."
Copyright Press Association 2012