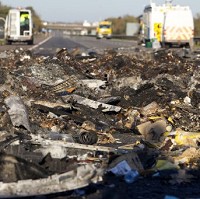 Road crashes along England's main highways cost an average of £700 million a year, the Road Safety Foundation (RSF) claims.
And motorists using a 10-mile stretch of Lincolnshire's A18 are more at risk of an accident than anywhere else in the UK.
The RSF focused its research on motorways and leading A-roads totalling 4,300 miles, from 2011 to 2013.
It based its costings on emergency call-outs, injury-related production falls, insurance claims and other factors.
The charity says it has identified single-carriageway A-roads as the most costly and is urging Highways England (HE) to force a reduction in crashes, especially on these routes.
This is the agency's "economic" and "moral" imperative, it claims.
The RSF report reveals Lincolnshire's narrow A18 Laceby-to-Ludborough rural road as the most consistently dangerous section of road in the UK. The amount of severe and fatal accidents there has leapt by 70% from 10 crashes between 2008-10, to 17 from 2011-13.
Conversely, south-west Scotland's A70 stretch linking Cumnock with Ayr has been revealed as Britain's most improved road.
The amount of severe and lethal crashes has dropped from 16 to 1 during the three years - a dip of 94%. Speed cameras, road resurfacing, cycleway extensions and other safety upgrades have all helped to contribute to this improvement.
But Hampshire is a dangerous and costly place to drive, the report suggests. The southern county is one of four which has suffered economic losses totalling over £500 million in the three-year period.
Its road crash costs come to £631 million followed by Kent, Lancashire and Essex with £554 million, £544 million and £530 million respectively.
Welsh authorities Caerphilly and Torfaen have seen the tiniest loss-to-resident ratio with £211 and £219 respectively.
Study author Caroline Moore wants HE to concentrate more efforts on improving single-carriageway A-route safety. She says the cost of severe injury and fatal accidents on these roads (£19 for every car 1,000 kilometres travelled) is over six times more than the motorway equivalent (£3).
Copyright Press Association 2015