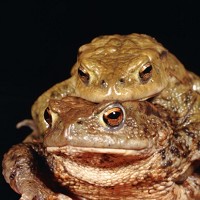 A local authority in London is closing a road for two weeks to ensure safe passage for love-struck toads.
Richmond Council in south-west London will ban traffic from the road so the creatures can cross the street without having to dodge cars on their way to breed at a pond in the area.
The closure is in reaction to complaints by people living in the neighbourhood that motorists were killing toads making the 330-feet journey across Church Road from Ham Common to their breeding site.
Residents have been sent letters letting them know about the closure, which starts on Friday. And animal-loving volunteers are patrolling the street at night to help any toads that cannot wait to find a partner to cross the road safely.
The road closure is just one of a number of measures which have been taken in the UK to keep frogs and toads safe from vehicles. Other schemes have included building bridges or underpasses beneath the highway.
Jonathan Fray, a highways engineer from Richmond said the closure would protect thousands of the amphibians each year, helping to preserve the species.
But some motorists do not appreciate the move, placing convenience over conservation.
Marie Carmen Vaccaro, who lives in north Kingston, said although she loves animals she is cross that she will have to make a one-mile detour which would take longer and use more fuel. She added that she did not know anyone who had even see the toads migrating across the route.
Copyright Press Association 2013