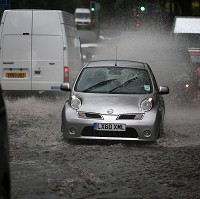 A combination of high winds and heavy rain is likely to cause travel disruption as the remains of Hurricane Gonzalo hit the UK.
The Met Office has issued a yellow weather warning for Tuesday, when the aftermath of the storm is expected to be at its strongest, bringing with it gales of up to 60mph in places and large spells of rainfall.
Northern Ireland, Northern England, North Wales, Southern and Eastern Scotland will be the worst affected areas as Gonzalo gradually filters out, making its way eastwards across the country.
There is therefore potential for localised disruption to travel. The risk of surface water on the roads is high, as fallen leaves impede drainage, while the strongest winds will coincide with rush hour in certain regions.
RAC spokesperson Simon Williams said: "There is going to be a real danger on the roads for motorists due to the challenging conditions. People should adjust their speed and leave lots of space between them and the car in front."
Motorists travelling on Tuesday should take the time to plan their journey beforehand. It is a good idea to have a backup route in mind, just in case your usual route to work or wherever is affected by the weather.
Hurricane Gonzalo caused widespread damage and a power blackout when it hit Bermuda last week.
Copyright Press Association 2014