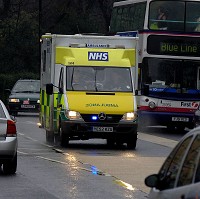 An "alarming" rise in the number of casualties on Britain's roads took place over the spring, official figures show.
Road deaths and injuries were up by 9% between April and June compared to the same three months in 2013, provisional statistics from the Department of Transport (Dft) reveal.
There were 4% more casualties over the 12-month period ending in June 2014 compared to the previous 12 months. This included a 3% increase in road fatalities, up to 1,760 from 1,713.
The number of people killed and seriously injured (KSI) during the second quarter of this year increased by 7% to 6,280.
When the number of people who suffered slight injuries during this period is factored in, the total number of casualties increased by 9% - 48,020 in total. Slight injuries alone also went up by 9% to 41,740.
RAC external affairs head Pete Williams said: "The increase in road casualties is alarming, especially the statistics that show a 12% rise in the number of child casualties.
"With Road Safety Week this month and darker evenings already upon us, November is an ideal time to take stock of these latest figures and think what we can as individuals do to bring about a change.
"Road safety is the responsibility of everyone if we're to drive these figures down and keep the UK's place as one of the countries with the safest roads."
Copyright Press Association 2014