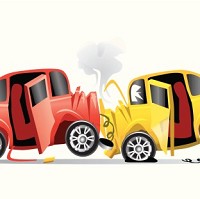 Almost 2.5 million British adults were involved in road accidents last year, according to new figures.
The statistics show the proportion of people involved in crashes has dropped since 2010.
But they still mean one in 20 adults were caught up in an incident during 2012, with five people a day killed on UK roads.
The Department for Transport's National Travel Survey shows that 5.2% of the adult population were involved in an accident last year, down from 5.9% and 6% in 2010 and 2011 respectively.
Some 800,000 of them were injured.
Men (5.6%) were likelier than women (4.8%) to be in an accident and to have to make a claim on their car insurance policy.
Simon Best, chief executive of the Institute of Advanced Motorists, said the falling accident, death and serious injury figures showed that British roads had "never been safer".
But he added: "We still kill five people every day and these government figures suggest that millions are involved in minor bumps and scrapes every year.
"Car and road design have delivered a safer driving environment, but it is clear that we must all share the responsibility of reducing accidents and collisions."
Copyright Press Association 2013