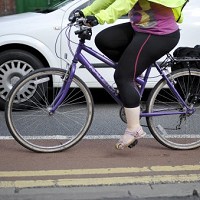 Plans to change laws surrounding motoring accidents will force drivers of cars and lorries to change their attitudes towards cyclists, according to bike campaigners.
But the former leader of the Crown Prosecution Service claims that bringing in presumed liability for civil court cases involving cyclists in road accidents could open the floodgates elsewhere.
Onus on the motorist
The proposed tweak to the law would see the onus placed on the motorist of the larger vehicle - car, van or lorry - to prove their innocence.
But Labour candidate Sir Keir Starmer says it could be "very dangerous" to launch a law which presumes someone's wrongdoing before the facts have been properly ascertained.
He fears such a precedent could percolate into other areas of life, such as welfare benefits.
Campaigners claim that presumed liability would give cycling road users greater peace of mind, and easier access to compensation payouts.
They also believe such alteration in the law could lead to drivers affording cyclists more respect.
Natalie Bennett, head of the Green Party and parliamentary candidate in Holborn and St Pancras, supports the proposed rule change.
Ms Bennett says that vulnerable travellers injured by bigger vehicles should always be granted compensation if the incident was not their fault.
She added from personal experience that conditions are far better for cyclists on French roads. Cyclists there do not feel as if they are putting their lives at risk whenever lorries overtake because they actually veer out into adjacent lanes to perform the manoeuvre, she said.
Wider ramifications
But Sir Keir believes such a move could bring wider legal ramifications and has spoken out against it.
He told a Camden hustings event that it could lead to other people wanting presumed liability clauses when it comes to other areas of the law.
Sir Keir clarified that he does want to safeguard cyclists wherever he can within the law. But the former public prosecutions director added that the country would be better off legally by beginning from neutral positions when two parties come to a tribunal or court.
This means ensuring what is the fairest, most just and correct outcome, he said.
Copyright Press Association 2015