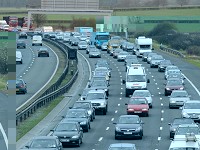 A new report has revealed that drivers in their teens and 20s are at just as much risk of being killed on the roads now as they were in the early 1980s.
The death risk to road users across all age groups has fallen dramatically over the period, which serves to highlight the danger to younger drivers, according to the Institute of Advanced Motorists (IAM).
In terms of road deaths per million of population, the UK was shown by the report - which was based on 2007 statistics - to be the sixth safest country. With 55 road fatalities per million people a year, the UK came behind Malta (25 deaths per million), Holland (45 deaths), Sweden (49), Switzerland (50) and Norway (52).
The IAM said that one of the factors behind the UK`s relatively high risk figure could be due to the length of Britain's roads having grown by around 50,000 miles over the past 50 years.
Neil Greig, IAM policy and research director, said: "Compared with the top five safest countries, we have a much denser road network, used by a disproportionately high number of cars. As the number of road casualties gets smaller, it will become increasingly difficult to save a life."
Copyright © Press Association 2009