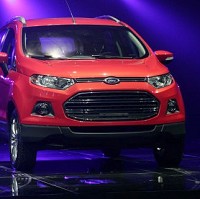 The Beijing auto show drew more attention than ever this year as the likes of Ford and Chrysler battled for a bigger slice of the world's biggest vehicle market.
Firms are even more so turning to China to boost revenue because of weakness in the markets in United States and Europe and many car makers were showcasing vehicles designed specifically for Chinese buyers at the event, as Chrysler's chief operating officer for Asia Mike Manley explained.
"To be successful in China, we must tailor or vehicles to the specific tastes of Chinese customers," he said.
Chrysler used Auto China 2012 to announce that it will sell a dragon-themed Jeep with gold-toned accents and dragon designs on headrests among other places.
And Ford unveiled the scaled-down EcoSport, a three-cylinder mini-SUV designed for "urban adventurers" with a 1-litre engine, which will be manufactured at its factory in Chongqing in the south west of the country.
Toyota, Audi, Nissan and some of China's own young and ambitious car manufacturers also premired luxury saloons and SUVs with China-specific features.
It marks a real sea change from years of selling the same models worldwide with few regional changes and shows the huge and growing importance of the Chinese market to firms.
Copyright Press Association 2012