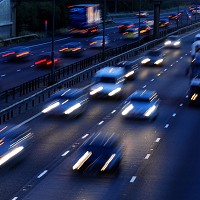 More people were killed on Britain's roads in the year ending September, according to provisional data.
The Department for Transport (DfT) estimates 1,780 lives were lost from October 2014 to September 2015, up 49 on the previous 12 months.
Fatalities on built-up roads with a speed limit up to and including 40mph rose by 71 to 780.
Motoring traffic levels increased by 2.2% over the same period, which could explain the upward trend in road deaths.
Overall, the DfT figures show the total number of incidents in which people were killed or seriously injured on the roads fell by 3% to 23,700.
While Britain continues to have some of the safest roads in the world, Roads Minister Andrew Jones says there is no room for complacency.
Last year the government launched its road safety plan, which includes proposals to introduce tougher penalties for drivers caught using mobile phones behind the wheel, extra money to crack down on drug-drivers and funding to train the next generation of cyclists.
It hopes the plan will help to reduce the number of deaths and serious injuries on Britain's roads.
Copyright Press Association 2016. Motoring News articles do not reflect the RAC's views unless clearly stated.