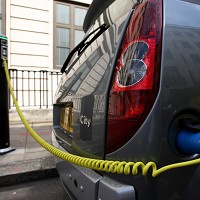 Ultra-low emission vehicles (ULEVs) are proving increasingly popular, as motorists look to cut their fuel bills.
A report by Go Ultra Low reveals that a record number of car buyers are opting to go green in a bid to save cash.
It cites the latest registration figures from the Society of Motor Manufacturers and Traders , which show a jump in purchases of alternatively fuelled cars that qualify for the Government's plug-in car grant.
Over 41% of all alternatively fuelled cars registered in the first quarter of 2015 qualified for the grant, up from 13% during the same period in 2014.
The grant covers 35% of the cost of a car, up to a maximum of £5,000, and 20% of the cost of a van, up to a maximum of £8,000.
'Cost' is the full purchase price of the basic vehicle, including things like number plates, vehicle excise duty and VAT.
Optional extras, such as delivery charges or the first registration fee, are not included.
A total of 8,573 passenger vehicles with CO2 emissions lower than 75g/km were registered between January and March, a year-on-year increase of 386%, as more drivers recognised the benefits of ULEVs.
It means more people than ever before are benefiting from annual fuel savings of around £660, not to mention being exempt from paying road tax , and a nationwide network of free recharging points.
Those in London also do not have to pay the congestion charge.
The Mitsubishi Outlander PHEV was the most popular choice of ULEV, followed by the Nissan LEAF and BMW i3.
But it is not just motorists that are benefiting from ULEVs.
Businesses are also taking advantage of the lower maintenance fees and tax rates they offer, plus the potential for reduced whole-life running costs.
Fleet and business ULEV volumes grew by 421% in the first quarter.
Businesses running commercial vehicles also showed signs of increasing their adoption of electric vans, with volumes up 263 units year-on-year - a growth rate of 353%.
There are now more than 25,000 ULEVs currently on roads in the UK.
Copyright Press Association 2015