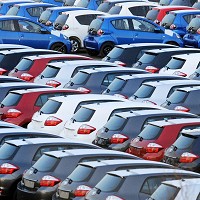 It's out with the old and in with the new as more and more car buyers are continuing to choose factory-fresh motors, industry figures reveal.
TheSociety of Motor Manufacturers and Traders (SMMT) says new car sales were on the up once more in June, with 189,514 new registrations, up 3.49% on the same period last year.
Last month's total has lifted sales in 2012 so far to 1,057,680, amounting to a 2.72% improvement on the figure for January to June 2011, with private car sales up 8.7% for the first half of the year and up 9.8% compared to June 2011.
The SMMT expects there to be nearly two million new-car sales by the end of 2012 and chief executive Paul Everitt said that the recession was not preventing motorists wanting new products and fuel-efficient technology. June saw a 47.3% jump in sales of alternatively fuelled models and diesels made up over half of total sales so far this year.
Paul said it was important for the car industry to ensure "sustained growth" after it had "performed better than expected in the first half of the year."
Copyright Press Association 2012