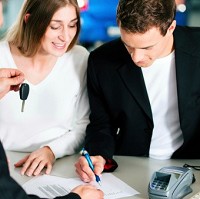 More and more motorists are purchasing new cars on dealership-based finance deals, new numbers suggest.
The Finance & Leasing Association (FLA) reports that the amount of such agreements grew by 6% between May 2014 and May 2015.
The figures show that consumers buying a car this way are typically advanced £16,500 for each vehicle. This is an increase of 4% on the same month in 2014.
The latest figures mean that the proportion of FLA member-financed private new vehicle sales hit a record for a 12-month period, of 77.6%, between May 2014 and May this year.
There has also been an increase in such deals among pre-loved cars.
New second-hand car finance activity rose 3% in units and 8% by worth over the same 12-month time-frame.
Meanwhile, the FLA said that the latest point-of-sale consumer vehicle finance figures for this year have matched forecasts.
Its chief economist and research head, Geraldine Kilkelly, said that Oxford Economics' recent studies have demonstrated the key role that FLA car finance providers play in Britain's economy.
They funded over 57% of the entire customer car spend last year - a 35% increase over the past seven years or so, she said.
The FLA bills itself as Europe's premier trade body for the car finance, consumer finance and asset finance industries.
It was founded 23 years ago and by last year its members had provided £100 billion worth of fresh finance to British households and companies.
Copyright Press Association 2015