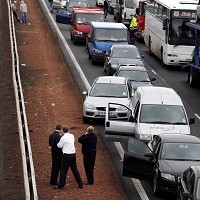 Motorists in Scotland are spending longer in traffic jams despite efforts to reduce congestion, according to the Scottish Household Survey .
The latest data on transport and travel shows that 11.7% of driver journeys were delayed because of congestion last year.
This is up from 9.7% in 2013, although the figure is still lower than the peak of 14.3% in 2007.
Transport Scotland aims to reduce the amount of traffic on the nation's roads by encouraging motorists to use other forms of transport. However, the figures show there is little change in the number of people choosing to cycle or walk to work, or indeed travel by public transport.
Last year, 29.8% of journeys to work were by public or active travel, which is not much difference to the 30.7% the year before.
Some 13% of commuter journeys were on foot, while 10% were by bus, 4% by train and 2.6% by bicycle.
The main reasons people chose not to cycle were because of distance and too much traffic on the roads .
Nearly half (48%) of people who drove to work said they could use public transport if they wanted but chose not to. The top reasons for this were journey duration and inconvenience.
The Scottish Government hopes to build on its plans to tackle congestion. A spokeswoman for Transport Scotland says a record amount of money is being invested in sustainable transport, with 16 miles of new railway built in recent years.
Cars and vans are still the most popular mode of transport in Scotland, and were used for two-thirds of all journeys.
Walking and cycling accounted for another quarter, and around 10% of journeys were by public transport.
More people said they were satisfied with public transport last year, rising to three-quarters from 71% in 2013.
Copyright Press Association 2015