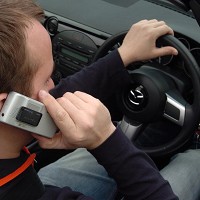 The number of crashes caused by drivers using mobile phones increased by more than a fifth (21%) in three years, new figures reveal.
According to Department for Transport data 349 collisions involved mobile phone use in 2010; a figure rising to 422 by 2013.
The increase came during a period in which the total number of road incidents investigated by police fell around 10% - from 120,827 to 108,934. This has prompted the RAC to reiterate its calls to police to review current law enforcement practice on illegal driving.
One in three motorists (34%) fear other drivers being distracted by their mobile phone while they are driving. Three quarters say they often see other motorists using them.
Despite this, fewer than one in 10 people (8%) who drive actually admit to using their phones with their hands while they are 'in control' of a vehicle.
RAC chief engineer David Bizley said: "In light of these figures from the Department for Transport, we are reiterating the statement we made in our Report on Motoring 2014 , by calling on the police to enforce the current laws on the use of hand-held phones while driving more effectively.
"This must be supported by a high profile, government-funded road safety campaign that makes using a hand-held mobile phone at the wheel as socially unacceptable as drink driving.
"A report by the Transport Research Laboratory in June this year demonstrated that talking on a hand-held phone while driving causes a 46% reduction in reaction speeds, compared to 13% for drivers drinking alcohol to the legal limit. This is extremely compelling and puts into perspective the dangers of using a phone while driving.
"We feel there is currently a high level of acceptability which is something both this government, and the next administration that takes over in May 2015, needs to address as a matter of urgency if we are to prevent the number of accidents continuing to rise."
Copyright Press Association 2014