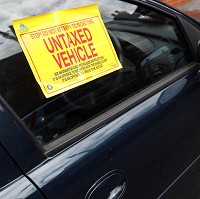 An increasing number of cars are being clamped as drivers fall foul of new road tax rules .
Figures show more than 25,000 were clamped by the DVLA in the first three months of the year - an additional 3,000 a month - as thousands of motorists failed to realise road tax is now cancelled when a used car is sold.
Under the switch to digital tax discs, the road tax on a used car becomes invalid as soon as it changes hands.
This means it is up to the new owner to purchase road tax straight away. But many are being caught out because they are not aware of the new rules, leaving them open to costly fines and the risk of clamping.
RAC spokesman Simon Williams said: "It does appear as if the end of the physical tax disc - which was always a useful visual cue to owners as to when they needed to renew their tax - is continuing to catch some motorists out. The message is clear: if you're buying a car, disregard what might still be stuck to the windscreen, and ensure you pay the relevant tax online or over the phone immediately.
"The automated system the DVLA now uses can identify untaxed vehicles easily; if your car is untaxed you risk being fined, possibly in excess of £1,000, plus the cost of releasing it if clamped or impounded."
Clamped motorists must pay a fixed release fee of £100 within 24 hours. If they fail to do so, the car is towed away and the release fee is doubled to £200.
The DVLA also charges a storage fee of £21 per day while the car remains locked in the pound. If this is unpaid after a week, the DVLA has the right to "dispose" of the vehicle by either selling or scrapping it. Motorists must pay a further £160 surety to get the car released, or alternatively pay the road tax in full.
Official figures show a total of 26,173 cars were clamped by the end of March - an average of 8,724 a month.
The same period in 2014 saw 16,144 cars clamped - 5,381 a month. It represents a year-on-year rise of 60%.
NSL Ltd, a private firm which clamps vehicles on behalf of the DVLA, has 44 tow trucks and 52 vans looking for untaxed vehicles up and down the UK. It is believed to earn several million pounds a year from the contract.
The DVLA says the road tax changes have been widely publicised.
It claims to write to every vehicle keeper to remind them of the new rules before the tax expires, as well as every new vehicle keeper when they buy a used vehicle to inform them that they must tax the vehicle.
Copyright Press Association 2015
https://www.gov.uk/government/organisations/driver-and-vehicle-licensing-agency (DVLA)