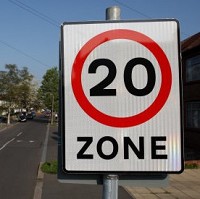 More work needs to be done to ensure 20mph speed limits are effective in preventing accidents, according to a leading road safety organisation.
The Institute of Advanced Motorists (IAM) says that local councils and the Government need to look at how effective 20mph signs are and whether other measures to change driver behaviour in certain areas would be cheaper and more effective.
The IAM is responding to its own analysis of Government data which shows that the number of serious accidents on roads with a 20mph limit increased by 26% last year.
The number of slight accidents on 20mph roads rose by by 17%, while the number of serious casualties went up 29%.
Meanwhile there was a fall in the number of serious and slight accidents on roads with 30mph and 40mph limits. On 30mph roads serious accidents were down 9% and slight accidents fell by 5%, while on 40mph roads the amount of serious accidents went down 7% and the number of slight accidents dropped by 3%.
IAM chief executive Simon Best says that it is now easier than ever for local authorities to put 20mph limits on roads, but despite this, the measures aren't cutting the number accidents and injuries.
He says that if the road still looks like a 30mph road drivers will behave no differently.
The IAM wants to see more research into the effectiveness of 20mph limits to make sure they are the best way of making roads safer.
Mr Best adds that we could look to follow the European model, where better segregated or shared surfaces have led to increased safety for cyclists and pedestrians.
Copyright Press Association 2014