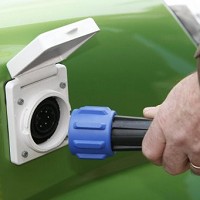 A group of Dutch inventors have created and patented a gearbox which does not have gear wheels.
The four designers from Eindhoven have predicted the Controlled Rotation System will revolutionise the automotive industry.
"This innovation fits perfectly in a green economy. It's easier, more compact and cheaper to assemble than traditional transmissions. It saves energy, offers more gear possibilities and can be used in all kinds of applications," they said.
"The technique is completely different compared to the traditional gearbox which dates from the 19th century. That's why you can call it revolutionary."
The new transmission offsets the lack of gear wheels by using two discs powered by a sturdy belt. The diameter of the discs gets bigger and smaller courtesy of a digital operated hydraulic oil pump and slide units, which results in acceleration and deceleration and consequently a different gear.
The system works in vehicles, windmills, ships, motorbikes and a wide variety of other machines.
The inventors have given a prototype to the automotive industry which measures 30 x 22 x 18 centimetres. Electric cars would benefit most from the new gearbox as it saves a lot of energy.
Copyright Press Association 2013