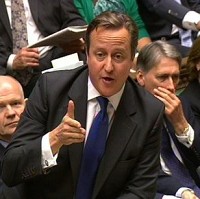 Prime Minister David Cameron has revealed the Sentencing Council has been told to reassess recommendations on how serious driving offences are dealt with.
Conservative MP Chris Skidmore brought up the deaths of Ross and Clare Simons in his Kingswood constituency at Prime Minister's Questions. They were hit on their tandem bike by a serial motoring offender.
Nicky Lovell, 38, who already had 11 convictions for getting behind the wheel while banned, was handed the maximum sentence of eight years in May after he pleaded guilty to killing the couple.
Mr Cameron said a new offence of causing serious injury by dangerous driving has been introduced and confirmed the Government is looking at the entire area.
"I can also tell you the Justice Secretary has asked the Sentencing Council to review the sentencing guidelines for serious driving offences and I think we should look at this specific case in the light of that," he added.
Mr Cameron offered his condolences to the friends and families of Mr and Mrs Simons.
"This is the most appalling crime - someone with 10 previous convictions, who is disqualified at the time, driving dangerously and killing two people, and snuffing out their lives," he said.
Copyright Press Association 2013