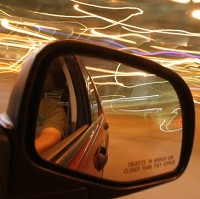 Two new Ford innovations aimed at safer driving are among its top-selling aids.
A rear view camera that helps drivers with blind spots, including reversing and parking, was its quickest-growing driver assistance technology last year.
Ford drivers Europe-wide bought 55,000 vehicles with the cameras, over 11,000 of which were in the UK.
This is a 45% rise on the 38,000 sold in 2011 in Europe - leaving it the third best-selling driver aid.
Ford's rear view camera, which debuted on the Ford Kuga in 2008, reveals obstructions such as animals and children on a screen in the rear view mirror or the instrument cluster.
It was introduced in Ford's Galaxy and S-MAX models in 2010 and has since hit the Focus, Grand C-MAX, C-MAX, Fiesta and B-MAX.
Ford also shifted over 100,000 vehicles Europe-wide equipped with Active Park Assist, the second best-selling aid and another device aimed at keeping down drivers'car insurance premiums.
This help drivers parallel park at the touch of a button, using ultra-sonic sensors to find suitable parking spots and automatically steering the vehicle while the driver controls the gears, throttle and clutch.
It is available on Ford's C-MAX, Focus and new Kuga.
Copyright © Press Association 2013