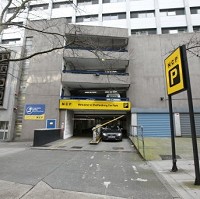 A third of European motorists have damaged their vehicle in a parking accident since 2010, a new study reveals.
It found that around one in six (16%) of those damaged their motor while trying to park themselves.
The YouGov poll of 9,177 adults found that reverse-parking is the biggest reason behind parking prangs.
The worldwide research agency set out to examine the impact and causes of parking incidents.
Italian motorists had most call to claim on their car insurance for failed parking manoeuvres. Over of a quarter of Italians who damaged their car over this five-year period did so while trying to park.
This compared to only 10% of joint-table-topping UK motorists, while Spanish motorists finished second behind Italy with their drivers' figures hitting one in four. French and German parking-accident ratios amounted to 10% and 11% respectively.
Italy also provided the worst reverse- parkers, the survey suggested. Here most prangs (51%) happened when drivers were in reverse, whereas throughout Europe reverse-parking was behind 45% of parking prangs.
State-of-the-art technology plays an increasing part in helping relieve some of tensions caused by parking. Motorists can, for example, buy parking sensors .
New driver parking aides seem to be coming on the market all the time. Nissan, the Japanese car company which commissioned the research, recently used a Roman car park as its stage to illustrate the advantages of its Pulsar compact hatchback's new parking aides.
Its Around View Monitor (AVM) offers motorists almost a bird's-eye vehicle view as they edge into a bay. The vehicle also boasts Moving Object Detection assistance.
Bastien Schupp, Nissan Europe's marketing vice-president, said that not every driver feels comfortable with having to park. He said the AVM not only helps avoid car damage, it can help build-up drivers' parking confidence.
Mr Schupp added that the AVM helps to remove the stress from parking manoeuvres.
The poll surveyed drivers from Italy, Germany, Spain and France as well as Britain.
Wherever people motor in Europe, they can see how fellow drivers fared with the new Nissan technology by visiting it's " Perfect Parking " special challenge video. The exercise hopes to put some fun back into parking.
Copyright Press Association 2015