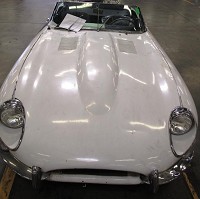 Imagine being reunited with your stolen car nearly half a century after its disappearance.
An 82-year-old Miami man is in disbelief after hearing the news his sports car has been found after being stolen in 1968.
Ivan Schneider's E-Type Jaguar was found among a batch of vintage vehicles en route to Holland.
It's fair to say when the pair are reunited he can expect it in less than the immaculate condition he last saw it in, 46 years ago before it was taken from outside his New York apartment.
Such a model would normally fetch 100,000 dollars (£61,000) in pristine condition. This one, however, is now scratched and rusty, bringing its value down to just about 23,600 dollars (£14,000)
Mr Schneider, then a 30-something solicitor, plans to restore the vehicle, calling the find a "miracle".
He told Miami's Herald newspaper that it was love at first sight with his "prettiest" E-Type and he is vowing not to push the Jaguar too much when they are finally reunited.
Copyright Press Association 2014