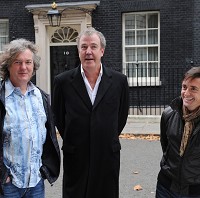 The three motoring pundits who formed BBC's Top Gear team are making an on-screen comeback next year.
James May, Jeremy Clarkson and Richard Hammond have signed a three-series deal with Amazon.
The tie-up ends months of speculation about their next move after they controversially left the iconic BBC2 driving magazine show. This followed Clarkson's sacking after his involvement in a bust-up with a production employee.
Customers of Amazon Prime across the globe will be able to access the show - and the irony is not lost on May.
He joked that the team are set to be involved in the new smart TV age, while Clarkson likened the switch from the BBC to Amazon as going from a "bi-plane" to a "spaceship".
The trio have been on a live tour for much of the year,
The new Amazon show will reunite the team with Andy Wilman, their former executive producer.
Amazon Prime Video EU vice president Jay Marine says the firm is "excited" to host the lads' on-screen comeback.
Mr Marine predicts that their screen reunion should be among next year's most anticipated programmes across the globe. He calls today one of TV's golden ages and a great era for storytellers and television makers alike.
BBC officials have signed petrolhead presenter Chris Evans to be the new host of its revamped Top Gear show.
Copyright Press Association 2015