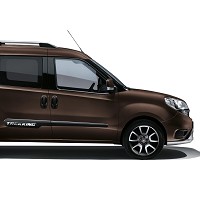 Fiat are going back to the future to honour an iconic model first manufactured well over half a century ago.
The original Fiat 500 was first built in 1957, and now the Italian manufacturer is to unveil the retro-look Fiat 500 Vintage '57 at the 2015 Geneva Motor Show on March 3.
The car-maker says the new 500 is based on a contemporary interpretation of the original's style features, incorporating 16-inch vintage alloy wheels and a set of historical Fiat logos.
On sale in Britain from April with prices starting at £12,545, the car will be available in a range of colours, contrasting with its white roof, mirror covers and spoiler. Its interior includes a retro white dashboard and tan-coloured leather seats incorporating embroidery with a 500 theme.
But while the style is retro, motorists will find the car's up-to-date technology - including seven airbags and air conditioning - a far cry from that used by Fiat on its original 500.
The current Fiat 500 is sold in over 100 countries around the world, having been produced in Poland since 2007 and Mexico since 2010.
Copyright Press Association 2015