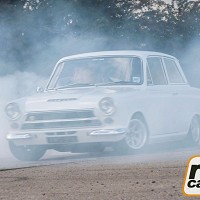 Owners of older and modified cars are being promised a show with a difference at a Northamptonshire racing circuit next month.
Unlike other traditional events of its type, Retro Cars Live lets attendees drive their old classics on Rockingham Motor Speedway on Sunday, August 9.
Enthusiasts heading to Mitchell Road in Corby, can expect a whole host of live, interactive attractions at the festival-style event.
An era-by-era Retro Cars Legends display will feature show-stopping motors, supplemented by Retro Car Magazine's own car paddock.
Clubs and individuals will be exhibiting thousands of motors from some of the most choice marque names, such as BMW, Ford, Mercedes-Benz, Vauxhall and VW.
The circuit will host a series of events, including a round from the spectacular UK Classic VW Challenge. Fans can also see 0-60 sprints, NASCAR exhibitions and pre-1989 classics participating in the Retro Drift Challenge.
There will also be prizes up for grabs in a "Rate My Ride" section, while low riders can have their moment in the spotlight in the Rockingham infield.
Organisers are banking on a great retro atmosphere with visitors encouraged to attend in 1980s fancy dress with prizes again available.
The show's Village Green is set to form the event's hub. This will feature a special interactive stage section putting on all-day live bands and interviews as well as children's entertainment, refreshments and drinks.
Guests will be invited to buy an array of motors, while kit car connoisseurs will enjoy the wild and wacky Total Kit Car paddock.
John-Joe Vollans from Retro Cars calls the event "completely different". He says no model is excluded from the proceedings and it is a case of "anything goes". Mr Vollans wants visitors to enjoy the "fun, festival-style" environment.
People who cannot wait to the Sunday to soak up such an atmosphere can even camp overnight for £7 per-paid or £10 there and then during the Saturday before.
General show tickets cost £12 each or £3 more on the day itself. An extra £35 will get visitors a track test drive in their retro motors.
Copyright Press Association 2015