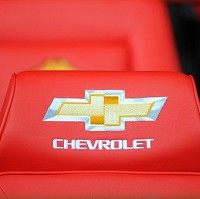 Chevrolet has given its Captiva compact SUV a makeover and drivers have been given a first glimpse of its new look at the Geneva Motor Show.
Ready to order now, the new Captiva sports an array of changes all over. At the back it has new LED lamps, angled chrome exhaust pipes and a reshaped bumper. Its bumper is lower at the front and it also features a grille mesh and altered fog lights.
The 18-in alloy wheels look superb on the road and buyers plumping for upper trims will not need to carry keys with them thanks to the keyless entry system fitted as standard.
Abreakdown of the changes inside the new Chevy reveal a stylish instrument panel and new colours and fabrics, including leather depending on the trim level.Chevrolet certainly had the family in mind with its redesign. It can have up to seven seats and produce two different climates in the cabin if required. It also features ambient illumination and some specifications also include heated rear seats.
The Captiva offers adventure, space, capability and convenience, according to Susan Docherty, President and Managing Director of Chevrolet and Cadillac Europe. It comes in three different trim sets, LS, LT and LTZ, which start at £21,295, £26,995 and £29,995 respectively. Drivers can also choose a 2.2VCDi engine with automatic or manual transmission.
Copyright Press Association 2013