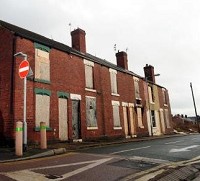 The residents of a street known as Butt Hole Road have raised £300 to have its name changed.
The street in South Yorkshire's Conisbrough is being renamed Archer's Way in a reference to the nearby Conisbrough Castle.
Residents hope it will gag the endless jokes they are subjected to and put an end to visitors baring their backsides for photographs next to the sign.
Marita Swann, who lives on the street, said: "Everybody is happy now, and it's a closed book. We were all in favour of changing the name."
A Doncaster Council spokesperson said: "Planners considered that there was a good case for a name change as all of the residents on the street were in favour.
"In situations where a sign is damaged or in a state of disrepair Doncaster Council will replace it free of charge. In this case there was nothing physically wrong with the sign and the residents therefore agreed to pay for a new one."
However, 2,261 people have joined an online campaign to bring back the street's name.
Copyright © Press Association 2009