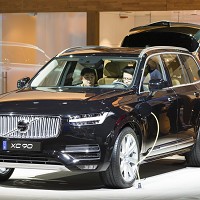 Leading researchers are calling for car manufacturers to make their vehicles even safer.
Thatcham Research says there are many ways road safety can be improved even further, including by fitting features such as Autonomous Emergency Braking (AEB) as standard in all vehicles.
It comes after the What Car? awards on Wednesday saw the Volvo XC90 scoop the prize for the UK's safest car, with 17 motors in total shortlisted for the safety category.
Runners-up the Toyota Avensis and Honda Jazz were also both commended.
But Thatcham Research believes motorists and especially car manufacturers can both do more to make driving less hazardous.
Its chief executive Peter Shaw says that motors are safer than ever.
But he believes there are several ways that vehicle safety records can be improved, such as by fully utilising the technology available.
He wants AEB to stop being just an optional extra, claiming that only one in six vehicles (17%) come with the feature as standard.
The research centre also wants to see s afety features explained more simply, with dealerships guiding customers through why each technology is important.
In addition, Thatcham Research is calling for manufacturers to stop charging extra for safety features. It cites research which shows that 82% of motorists believe that such features should be included in a car's standard price.
Finally, Thatcham wants stakeholders in the motoring sector to work together to launch generic terms for safety tech to make things easier for drivers when they come to choosing a new car.
All 17 shortlisted vehicles for the What Car? safety prize boast a five-star rating for crash tests from Euro NCAP and AEB as standard on one or more of their models.
When awarding the prize, judges considered features such as pedestrian, child and adult passenger protection, as well as new collision avoidance technology.
Copyright Press Association 2016. Motoring News articles do not reflect the RAC's views unless clearly stated.